Vehicle Storage in Hemet, CA
Dawn To Dusk R.V. & Boat Storage has been offering safe, secure and highly affordable vehicle storage since 2004 to customers in Hemet, CA and the surrounding communities. As a family-owned and -operated small business, we take pride in offering personalized service and great rental prices to each of our customers.
Your Automobile Storage Lot
Owning a recreational vehicle, boat, ATV or other vehicle can be highly enjoyable, but unless you use it frequently or have lots of space on your property, where should it live when it's not in use? Luckily, for those in need of RV or other vehicle storage in Hemet, San Jacinto, Winchester, Temecula, or Murrieta, CA, there's Dawn To Dusk R.V. & Boat Storage. Since 2004, we've been offering premium RV storage in Hemet, CA at our secure facility, and we're known for giving our customers friendly service and great deals on vehicle storage. Whether you need long-term boat or ATV storage in Hemet, CA or just need a temporary home for your RV, you've come to the right place!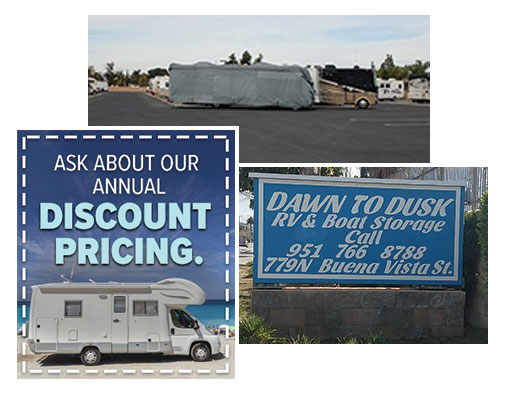 Your vehicle is safe
Dawn To Dusk R.V. & Boat Storage is a five-acre outdoor recreational vehicle and automobile storage lot in Hemet, CA. We are pleased to provide our customers with the peace of mind that comes from knowing their vehicle is safe, infrared security and fully lit premises at our RV storage lot in Hemet, CA. In addition to safety and security, our automobile storage lot in Hemet, CA offers resident management, premium spaces, paved drive lanes and other amenities that are designed to make storing your vehicle with us easier and more convenient.
Here's a closer look at some of the reasons our customers love doing business with us when they need RV storage in Hemet, CA
We offer five secure acres of storage for vehicles of all types.
We've been a family owned and operated business in Hemet, CA since 2004.
All of our employees are trained and knowledgeable regarding the storage of boats, RVs and other vehicles.
We provide peace of mind through infrared security.
Our rates are very competitive and fair.
Dawn To Dusk Amenities:
5 Acre Gated Facility
Infrared Security
Surrounding Block Wall
Keypad Access
Resident Management
Paved Drive Lanes
Premium Spaces
Fully Lighted
Providing service for areas surrounding California
Hemet, CA
Riverside County, CA
San Jacinto, CA
Beaumont, CA
Lake Elsinore, CA
Diamond Valley Lake
Winchester, CA
Aguanga, CA
Desert Hot Springs, CA
Riverside, CA
Palm Desert, CA
Hemit Lake
Murrieta, CA
Temecula, CA
Anza, CA
Palm Springs, CA